Museum of Cosmonautics

30 May 2019 - 30 November 2019
About the event
Curator:: Tatyana Alexeevna Gevorkyan
Exhibition prepared for the 85th anniversary of the space pioneer Alexey Arkhipovich Leonov.
Alexey Arkhipovich Leonov is a legend, a person who inspires cosmonauts, and a man of peace, applauded by people in every corner of the world. Alexey Leonov is not just a professional cosmonaut, but also a professional artist. The exhibition presents around 40 artistic works from the funds of the Museum of Cosmonautics and the artist's collections. A large portion of them you can see for the first time.
Space Legend
Alexey Arkhipovich became the first human in history who worked in open space on March 18th, 1965. In 1975, together with Valeriy Nickolaevich Kubasov, he conducted the first international docking in space of the "Soyuz - Apollo" program. He prepared cosmonauts for flight, saw off almost 120 people to space, and closed the hatches of training simulators after cosmonauts.
About the Exhibition
The sections of the exhibition focus on different stages of the cosmonaut and artist's life: childhood; career choice - artist or pilot, cosmonaut; first space walk; and the "Soyuz - Apollo" mission.
In addition to the artwork, you can take a glimpse into the artist's workplace - we carefully recreated its interior (the easels, brushes, and paints with which Alexey Arkhipovich Leonov worked), the telescope from his office, the hero's uniform with all the awards, and rare photographs of the training crew of Alexey Leonov and Pavel Belyaev's spaceship "Vostok-2." For the first time, we show Yuri Alexeevich Gagarin's recommendation of Alexey Leonov for the role of "cosmonaut."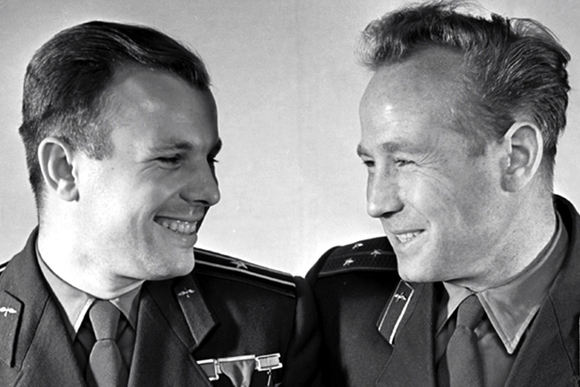 The Museum of Cosmonautics thanks Alexey Leonov's family and his daughter, Oksana Alexeevna Leonov, for their help in preparing the exhibition.